COVID-19 pandemic which has spread to six continents and lasted for nearly half a year, has not only caused travel restrictions and severe economic impact to people all over the world, but also inflicted a huge damage the medical industry, and almost all surgical operations around the world have been in a state of stagnation or delay.
As a result, challenges arise on how to carry out surgery safely under the haze of epidemic situation, and to save more COVID-19 patients who need surgery. June 26th, Beijing time, witnessed a dialogue across the Pacific Ocean at the International Telemedicine Center of the First Affiliated Hospital of Zhejiang University School of Medicine. The two sides were the teams of experts from FAHZU and Massachusetts General Hospital respectively.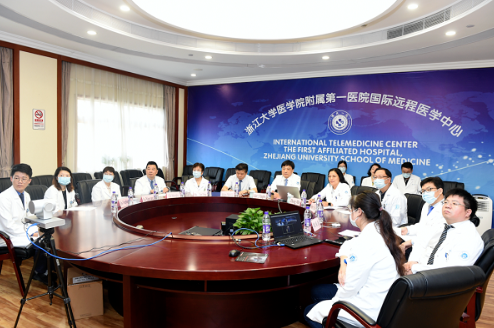 In the meeting room sat a team of experts from FAHZU, who enjoyed a global reputation in organ transplantation. At the other side, there were experts from MGH, including Keith Lillemoe, Editor-in-chief of Annals of Surgery, Chief of Surgery of MGH and Haytham Kaafarani, Director of Patient Safety Quality, Trauma Emergency Surgery of MGH. During the epidemic, both sides have reaped fruitful research results and had shared in the top journals such as Annals of Surgery, the Lancet and JAMA.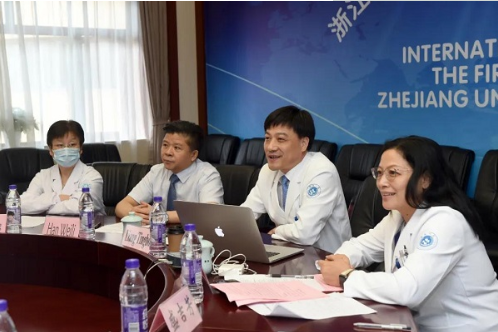 Prof. Liang Tingbo, chairman of FAHZU, is a prestigious organ transplant expert in China, and excels at diagnosis and treatment of complicated hepatobiliary and pancreatic tumors and liver transplantation.
Prof. Liang introduced that Zhijiang Campus of FAHZU, as the designated hospital for severe and critical COVID-19 patients, has treated 95% of the critically ill patients in the province. Meanwhile, during the epidemic, FAHZU hasn't stopped the surgical operations. On February 8th, a pregnant woman with COVID-19 who was 36 weeks pregnant gave birth to a baby boy by caesarean section in FAHZU. A patient with COVID-19 was successfully treated by radical resection of intestinal cancer with high difficulty and risk. Two cases of lung transplantation in elderly patients with COVID-19, aged 70 and 66 respectively, were successfully performed, which obtained worldwide attention.
Prof. Keith Lillemoe shared the important role of Annals of Surgery in spreading updated information during the pandemic from his professional perspective.
Prof. Haytham Kaafarani probed into the significance of surgery in the treatment of COVID-19 by analyzing the clinical cases of COVID-19 patients with basic diseases. For these patients with basic diseases, he proposed to consider postponing non-emergency surgery and promoting non-surgical treatment.
In the following session, both sides made a meticulous discussion on the challenges and difficulties of surgical operation during the epidemic according to the clinical treatment practice.
COVID-19 is a disease of respiratory infection, but with the deepening of global understanding, it also has caused a significant impact on surgery and endovascular research. Scientists all over the world, including surgical experts from FAHZU, are making great efforts to explore, hoping to unveil the mystery of COVID-19 and overcome the disease threatening the lives and health of people all over the world.