In Mali of Africa, June 2020 has witnessed the 16-year-old girl Fatime's recovery to walk freely with her legs as normal people after receiving the meticulous diagnosis and treatment from Dr. Yu Liedao, the spine surgery expert of China's medical team to aid Mali and the associate senior attending surgeon of the First Affiliated Hospital of Zhejiang University School of Medicine.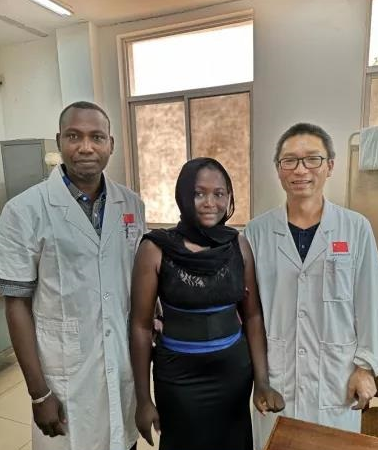 Fatime (middle) with Dr. Yu Liedao (right)
Mali, an ancient African country in desert with a distance of more than 13,000 kilometers from Hangzhou, has a life expectancy of fewer than 50 years and is recognized by the United Nations as one of the most undeveloped countries in the world. Since 1968, FAHZU has undertaken the assignment of medical team to aid Mali. In 52 years of medical aid work in Africa, FAHZU has dispatched more than 30 experts, a total of 26 groups to Mali. Dr. Yu Liedao from Orthopaedics Department of FAHZU is an expert among the 26th batch of medical teams to aid Mali.
Africa has the highest tuberculosis infection rate in the world. This disease is extremely dangerous. Spinal tuberculosis often causes paralysis and death of patients. Of all spinal tuberculosis, thoracic vertebral tuberculosis is the one causing most cases of paralysis and death.
Dr. Yu said that he had conducted thorough research on thoracic vertebral surgery in Mali: FAHZU has a well-known Department of Infectious Diseases and State Key Laboratory for Diagnosis and Treatment of Infectious Diseases. It is the strongest medical and research institution in Zhejiang Province with rich experience in the treatment of spinal tuberculosis. All these points constitutes prerequisites for this surgery. Besides, Mali Hospital has relatively strong disciplines of thoracic surgery and neurosurgery. And the medical equipment can basically meet the needs of surgery. What is more advantageous is that he also gets a very competent partner, DAMA, neurosurgeon of Mali Hospital. He studied abroad in France and worked in hospital in Paris.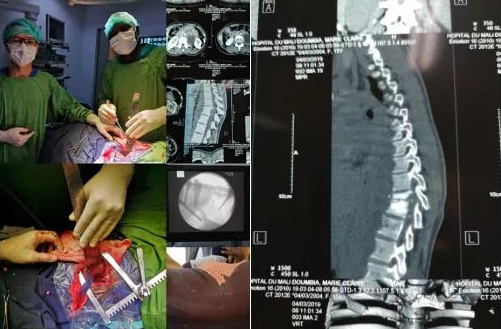 The operation was successfully finished after more than 7 hours' joint endeavor. Dr. Yu remarked that the success of this kind of operations is a continuation, progress and further manifestation of Sino-Mali medical cooperation, and serves as a pioneering and exemplary role for further cooperation among more disciplines in the future.